Coolsculpting, a revolutionary non-surgical procedure, has gained significant popularity in recent years as a highly effective method for fat reduction. By utilizing the power of controlled cooling, coolsculpting targets those stubborn pockets of fat that seem resistant to diet and exercise. This innovative approach, also known as fat freezing, has provided individuals with a safer and less invasive alternative to traditional liposuction. For anyone seeking to sculpt their body and say goodbye to unwanted bulges, coolsculpting offers a promising solution. In this comprehensive guide, we will delve into the world of coolsculpting, exploring its benefits, the science behind the procedure, and what to expect before, during, and after the treatment. So, if you've been looking for an effective method to achieve your desired body shape, join us as we embark on this educational journey through the exciting world of coolsculpting!
How Does CoolSculpting Work?
CoolSculpting, also known as fat freezing, is a non-invasive procedure that effectively reduces stubborn fat pockets. This innovative treatment utilizes the science of cryolipolysis to target and destroy fat cells in specific areas of the body. It offers a safe and efficient alternative to traditional surgical methods, such as liposuction.
During a CoolSculpting session, a specialized applicator is applied to the targeted area. The device uses controlled cooling technology to lower the temperature of the fat cells, causing them to crystallize. These frozen fat cells are then gradually eliminated from the body through the natural metabolic processes.
The process of cryolipolysis selectively targets fat cells without harming the surrounding tissues. As the fat cells are exposed to extreme cold, they undergo apoptosis, which is a natural cell death. Over time, the body eliminates these dead fat cells, resulting in a noticeable reduction in fat bulges.
One of the key benefits of CoolSculpting is its ability to permanently remove fat cells from the treated area. Once the fat cells are destroyed and eliminated, they do not regenerate. This makes CoolSculpting a long-lasting solution for reducing unwanted fat and achieving a more sculpted appearance.
Please note that CoolSculpting is not intended as a weight-loss method but rather as a targeted fat reduction procedure. It is best suited for individuals who are close to their ideal weight but struggle with specific areas of stubborn fat that are resistant to diet and exercise.
The Benefits of Fat Freezing
When it comes to coolsculpting or fat freezing, there are several benefits that make it a popular choice for those looking to reduce unwanted fat.
Firstly, one of the key advantages of cool sculpting is that it is a non-invasive procedure. Unlike surgical methods, there are no incisions or needles involved, which means minimal discomfort and no recovery time. This makes it a highly convenient option for those with busy schedules or who simply want to avoid the risks and downtime associated with invasive procedures.
Secondly, fat freezing specifically targets stubborn fat cells that are resistant to diet and exercise. Sometimes, no matter how much we try, certain areas of our bodies just don't seem to respond to traditional weight loss methods. Coolsculpting provides a targeted approach, helping to freeze and eliminate those stubborn fat cells without affecting the surrounding tissues.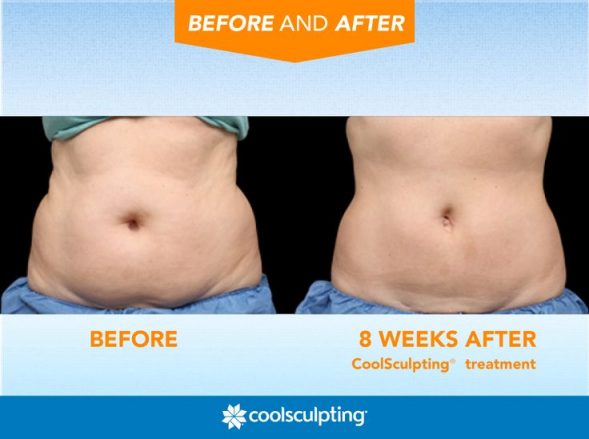 Lastly, another benefit of cool sculpting is that the results are long-lasting. Once fat cells are treated and eliminated, they are gone for good. Of course, it's important to maintain a healthy lifestyle to prevent the remaining fat cells from expanding, but the treated areas will continue to showcase a more sculpted and contoured appearance.
With these benefits in mind, it's no wonder that coolsculpting is becoming increasingly popular as a safe and effective way to achieve desired fat reduction outcomes.
What to Expect During and After the Procedure
During the coolsculpting procedure, you can expect a comfortable experience without the need for anesthesia or any incisions. The process begins with the applicator being placed on the targeted area. You might feel a cold sensation as the cooling process starts, but this typically subsides after a few minutes as the area becomes numb. Many people use this time to relax, read a book, or even catch up on their favorite TV shows.
Once the procedure is underway, you may experience some suction or pulling sensations as the applicator works to freeze the fat cells. While this might feel slightly strange at first, it is generally well-tolerated and not considered painful. Some patients even take a nap or use their phone during this time to pass the time.
After the coolsculpting session is complete, the treated area may appear red or swollen, but these effects are usually mild and temporary. It is important to note that you can resume your normal activities immediately following the procedure, as there is little to no downtime associated with coolsculpting. Over the coming weeks and months, as the frozen fat cells are gradually eliminated from your body, you will begin to notice a slimmer and more contoured appearance in the treated area.
Remember, the specific experiences and outcomes of coolsculpting may vary from person to person. It's always best to consult with a professional to determine if coolsculpting is right for you and to address any specific concerns or expectations you may have.